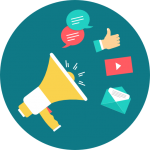 IH's #1 concern? Flipping Red Seats in NYS
In order to enact the legislation we need to protect all Americans (and especially New Yorkers), we need as many Democratic representatives as we can get. While it might seem like we're a blue state, there are a surprising number of seats held by Republicans in New York (both in the state congress, and the US House of Representatives). But they are vulnerable! We're working hard to convince people to vote who otherwise wouldn't, as well as having frank discussions with our Republican neighbors about why their incumbent doesn't care about them!
Who We're Fighting For
We've chosen to focus on two candidates so we can focus our efforts.
Liuba Grechen Shirley is running to unseat one of the most toxic members in the U.S. House of Representatives – Peter King. This is a tough fight, but we're all in on the amazing Liuba!
Kevin Thomas is running to flip a red New York State Senate seat. After we helped defeat the IDC, we have a real chance of having a truly blue New York State Legislature. To cement our victory, flipping seats like the one Kevin is running for is of vital importance!
Who We're Working With
Indivisible Harlem is a member True Blue New York. We welcome more groups and members who would like to help us fight for a more inclusive, progressive future!
Contact Your Representatives
If you don't tell your elected representatives what you want them to do, how will they know? @Resistbot makes it easy to tell them how you feel! You can use it anywhere on our website, or checkout resist.bot to get started.